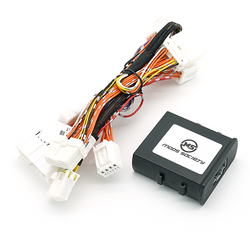 Mods Society
Auto Mirror Folding Module for Toyota 86 / Subaru BRZ
Description
Tired or always forgetting to fold your side mirrors every time, especially in those tight narrow car parks?  This module is all plug and play that doesn't require any cutting or splicing into wires, very easy to install. Connects to the factory OEM harnesses.

Folds mirrors in automatically when vehicle is locked.

Mirrors unfold on unlock.

Works for both keyless entry and key fob.
Also, a great visual indication that the vehicle is locked.
Compatibility
2012-2020 Toyota 86 / GT-GTS 
2012-2020 Subaru BRZ
Note:
Vehicle must have the mirror folding button.
Included

1x Harness (plug and play)
1x Driver module
1x Double sided tape 
Installation

Install time 20min
Tools needed:
Philips screw driver
Plastic pry tool
Customer Reviews
09/04/2023
Gary T.

United Kingdom
BRZ AutoMirror Folding Kit
Worked first time once installed. I have a later BRZ model (2017) so the online installation video wasn't quite right as there is an extra puddle light to disconnect. So much easier now to spot if I haven't locked the car and not having to worry about folding in mirrors in car parks. Well worth the small outlay and fun fitting it!
08/24/2023
Gilbert P.

France
package still not received
package still not received
03/02/2023
Shaun H.

Australia
Simple to install, satisfying upgrade
86/BRZ owners know the frustration of only being able to fold the mirrors in whilst the key is in the accessory position. Fine for most places but parking on busy streets was a hassle, juggling keys and switches while exiting. This module does away with that, adding a feature that seems like it should have been standard. The hardest part of the install is popping off the door card but the handy instructional video makes knowing where the clips are a breeze, then it's plug and play with the only thing you need to add is some tape to keep the wires up and out of the way. Everything feels solidly built and well designed to fit in and out of the way inside your door card, the wires have enough extra slack that you can route it where you like as well. Super easy, won't break the budget and does exactly what it says on the box. Removes a low key annoyance from the daily drive (plus you can see if you remembered to lock the doors, great for old farts like me) would highly recommend to any 86/BRZ owner.
01/23/2023
Richard G.

United Kingdom
Auto Folder
No more driving off with my mirrors folded. Works a treat and very easy to fit. Furthermore it arrived in the UK from Australia pretty quickly. I'd happily recommend the product and service.
07/18/2022
Grant J.

Australia
Auto folding mirrors
Professional built and packaged install was straight forward took around 30 minutes love the thought that at glance I can tell my car is locked thanks people .
05/28/2022
John Y.

United Kingdom
GT86 auto folding mirrors
Easy to fit. They do what they're supposed to. Fold in on lock and fold out on unlock. Should have been fitted as standard
02/04/2022
Ross G.

United Kingdom
Fantastic Module
Great bit of kit. Took a total of 10 minutes to install and worked first time. Now I can finally see if they car is locked and don't have to keep pushing the button.
10/07/2021
Ross C.

Australia
So easy
Fitting this was so easy, I love that you can see if the cars unlocked or not. The car should do this from the factory. Thank you for getting it out to me so quickly.
09/11/2021
Richard H.

United Kingdom
Does exactly what it's supposed to do
Was slightly nervous when I saw the pack labelled Subaru Impreza, but all the fittings were identical so wasn't an issue in the end. Really good videos on YouTube which helped a lot, but some of them mention that the pack has a nylon pry tool and cable ties in it - mine didn't so be aware you might need to get these yourself. 30 minutes end to end, most of which was working out how much force is required to take the door card off. Now I can tell at a glance if the car is locked or not - thank you very much!
08/15/2021
Sandro B.

Switzerland
Super
Very good, quick delivery, easy to install (youtube-video), and works great. i'm happy with it
02/09/2021
Mr P.

United Kingdom
all good
quick delivery to UK, quality product
01/21/2021
Burney

Australia
Amazing!
Shipped quickly, great little kit. Easy to install by even me (inexperienced!) and works perfectly! Very happy with this upgrade!
01/18/2021
Kerri S.

United Kingdom
Folding module for GT86
Fantastic piece of kit. 18 days from order to delivery in the UK, so easy to fit
12/16/2020
Paul M.

Australia
Feedback is a bit premature
Delivery speed and communications were awesome. Thank you! However, it was purchased for my son as a Christmas present. He hasn't opened it yet snd thud it is not yet installed. I can't wait to hear sbout it either.
11/12/2020
Ian B.

United Kingdom
Great kit.
Absolute dream fitting,you can't get it wrong. Just watch video clip on you tube on how to remove door card and that's it. 40 Min start to finish.
09/25/2020
Steve A.

Australia
Great piece of Kit
Easy install and delivered one of the most satisfying results. Well worth doing.