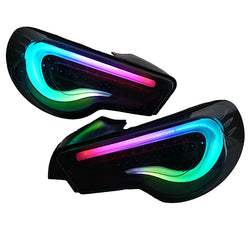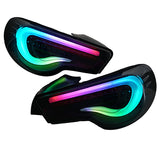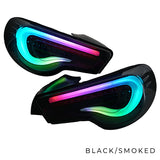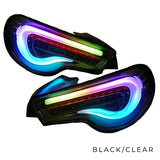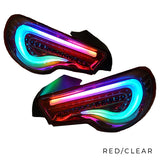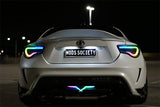 Mods Society
NeoPrism Valenti Tail lights for GT86/BRZ
Description
Stand out from the crowd with these custom built NeoPrism Valenti Tail lights for the Toyota 86 / Subaru BRZ. This Tail light upgrade includes a  sequential switchback boomerang turn signals, color-chasing show mode that can change to any solid color, plus hundreds of moving, color-chasing patterns all controlled via the bluetooth app!
Tail lights include ceramic coated headlight lenses for ultimate protection.
Please allow 2-4 weeks for the build; this includes shipping to the recipient. Updates will be sent periodically on the status of your build.
Features 

Blue Ghozt - Features 
Compatibility
2012-2020 Toyota 86 / GT-GTS / Scion FR-S

2012-2020 Subaru BRZ

If you plan to include the NeoPrism Valenti 4th brake light, the BlueGhozt bluetooth controller must be used for compatibility.
Included

NeoPrism Valenti Tail lights
1x Plug and play harness
1x Bluetooth controller (Standard or Blue Ghozt)
Installation

Plug and play install
Warranty
Pre-Built Headlights Warranty
Mods Society offers a 1-year limited warranty on all custom headlight builds. If you have an issue with any product, we will diagnose the problem with you, and you may be required to answer questions or assist in the diagnosis.

This warranty only covers any defective parts, i.e. Demon eyes, Halos or LED boards. The warranty does not cover items that been modified or physically damaged. Installation error ( water damage, bent or damaged wheel ring metal, physically damaged halos.) It is recommended to mount all controllers and wiring away from excessive heat. It is recommended to have it professionally installed.

You will be given two options; if we determine, the product is defective.
1. We will send you the replacement part and have yourself, or someone else help you install it. (if applicable)
2. You can send the headlight or headlights back to us for repairs. NOTE, you will be responsible for shipping both ways!

Please contact us here for further information.